The tech world is abuzz with excitement as rumors surrounding the upcoming Samsung Galaxy S24 Ultra continue to circulate. Promising an array of enhancements, from a superior display to improved cameras and sleeker bezels, the S24 Ultra is poised to set new standards in the smartphone landscape. One of the most intriguing revelations is Samsung's shift from aluminum to a titanium frame for this flagship device, a move that has raised questions about weight and usability. This article delves into the exciting developments surrounding the Galaxy S24 Ultra, including its titanium frame, camera upgrades, fast charging capabilities, and the innovative technology driving these enhancements.
Performance
Octa core (2.8 GHz, Single Core + 2.52 GHz, Tri core + 1.82 GHz, Quad core)
Samsung Exynos 2200
8 GB RAM
Display
6.8 inches (17.27 cm), 516 PPI, Dynamic AMOLED, 144 Hz Refresh Rate
Camera
200 + 12 + 50 + 10 MP Quad Primary Cameras, 32 MP Front Camera
Battery
5100 mAh, Fast Charging, USB Type-C Port
Operating System
and UI
Android v13 with Samsung One UI
A Titanium Frame: Unleashing Strength and Premium Appeal
The spotlight falls on Samsung's decision to equip the Galaxy S24 Ultra with a titanium frame, departing from the aluminum frames seen in previous Ultra models. The advantages of titanium over aluminum and stainless steel are indisputable—greater strength and premium quality. However, concerns arose about the potential weight increase due to the denser nature of titanium. Surprisingly, Ice Universe, a respected Samsung leaker, claims that the S24 Ultra will be lighter than its predecessor, the S23 Ultra, by a remarkable 1 gram. This revelation raises questions about the engineering marvel that makes this possible, defying the conventional wisdom about titanium's heft.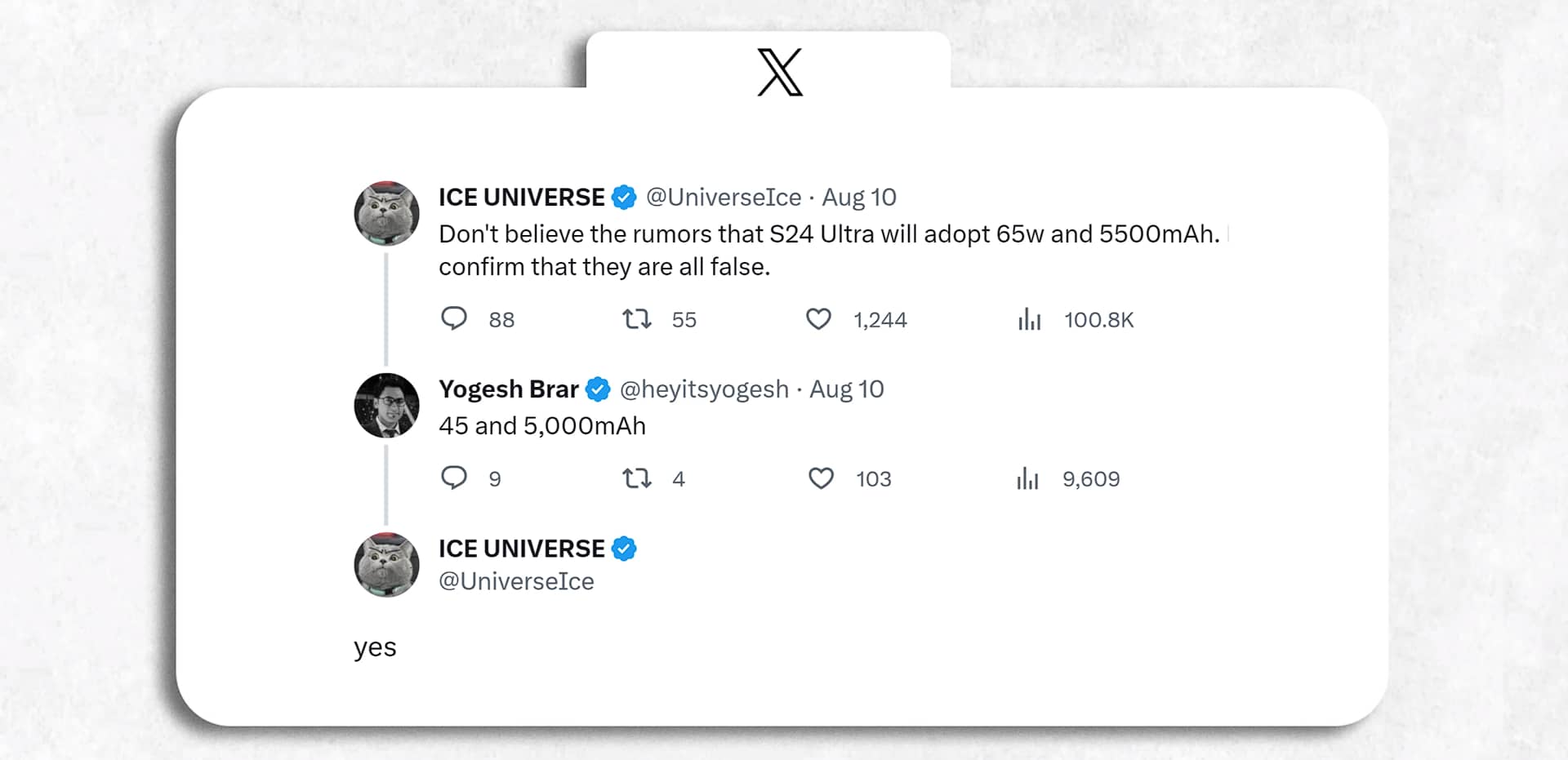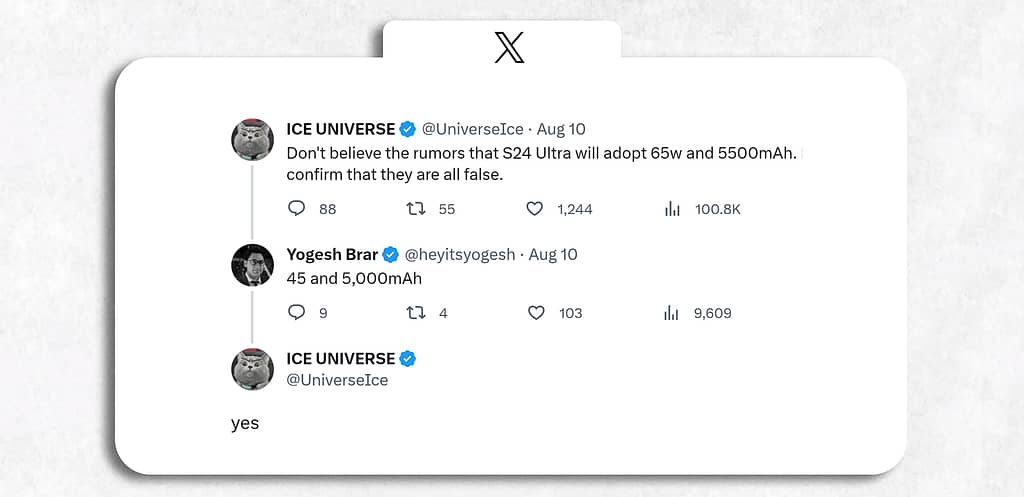 Camera Revolution: Mastering the Zoom Game
Samsung's commitment to camera excellence continues with the Galaxy S24 Ultra. Addressing previous shortcomings, Samsung is upgrading the camera UI and introducing a dedicated 5x zoom button. This enhancement is in response to the introduction of a new 50MP telephoto camera that significantly improves both 3x and 5x zoom capabilities. For too long, Samsung's intermediate zoom range, particularly between 5x and 7x, has been a point of contention. This new sensor is poised to tackle this issue head-on, aligning Samsung with competitors who have embraced higher-megapixel telephoto cameras.
Fast Charging Dynamics: Battling Battery Degradation
Rumors about fast charging capabilities have stirred the anticipation surrounding the Galaxy S24 Ultra. While initial speculation suggested 65W fast charging, it has been confirmed that the device will retain the 45W fast charging of its predecessor, the S23 Ultra. This conservative approach stems from a desire to mitigate battery degradation that often accompanies high charging speeds. Chinese manufacturers have embraced dual-battery setups to counter this problem, although at the cost of overall battery capacity. Samsung's reluctance to follow this path indicates its commitment to maintaining substantial battery capacity. A potential solution lies in innovative battery technology, such as stacked batteries, which can enable faster charging speeds without overheating concerns.
Optical Quality Crop Zoom: Advancing Camera Performance
Samsung's dedication to enhancing the user experience extends to its camera technology. The company has rolled out an update to the Camera Assistant app, which introduces an optimized 2x zoom toggle option in the stock camera app. This feature mimics the quality of a native optical zoom lens, bringing professional-grade photography to users' fingertips. To unlock this capability, users need to download the app from the Galaxy Store, enable the Optical Quality Crop Zoom feature, and ensure they are on the August security patch. This advancement showcases Samsung's commitment to constantly improving its devices through software updates.
Conclusion
The impending launch of the Samsung Galaxy S24 Ultra has sparked widespread anticipation and speculation. From the utilization of titanium for its frame to the camera and fast charging upgrades, Samsung is poised to deliver a device that pushes the boundaries of innovation. The smartphone landscape is evolving rapidly, and the Galaxy S24 Ultra's enhancements promise to captivate users while demonstrating Samsung's commitment to excellence. As technology continues to advance, Samsung stands at the forefront, ready to redefine the smartphone experience once again. Stay tuned for further updates and revelations as the official launch approaches.
Similar Topics: