AMD has recently unveiled its latest high-end desktop (HDT) processors, the Ryzen 7000 Threadripper series, which is set to be released on November 21st. This announcement follows a hiatus from AMD in the consumer-class HDT CPU market and comes as exciting news for PC enthusiasts. The new Threadripper CPUs will cater to both professional and consumer-class users, bringing back a platform that has been long-awaited by AMD's dedicated fan base.
Returning to the High-End Desktop Market
The absence of a consumer-class HDT CPU lineup has left a void in AMD's product offerings. While AMD's Ryzen 5,000 Threadripper Pro series caters to the professional market, it doesn't entirely meet the needs of the broader consumer audience. AMD listened to feedback from consumers and reviewers, which ultimately led to the decision to bring back the HDT desktop platform, known as the Ryzen 7000 Threadripper.
Key Features of the Ryzen 7000 Threadripper CPUs
The Ryzen 7000 Threadripper CPUs introduce two new classes of CPUs and feature a new socket for compatibility. There will be two chipsets to accommodate these processors, offering a higher core count and improved clock speeds compared to previous Threadripper parts. One notable selling point of these processors is their robust input/output (I/O) capabilities, providing extensive connectivity options. Additionally, these CPUs are unlocked for overclocking, potentially opening up new possibilities for performance enthusiasts.
Pricing and Availability
AMD has set the pricing for the new Threadripper CPUs, with the range spanning from $1,500 to $5,000 for the non-Pro variants. While this pricing may seem steep, it reflects the higher core counts and increased capabilities of these processors. Availability is set for November 21st, with no exclusive periods for large OEMs. This simultaneous release ensures that the new CPUs will be accessible to consumers and enthusiasts alike.
Threadripper Pro CPUs
The Threadripper Pro 7000 WX series consists of nine new CPUs, with the top-tier model being the 7995 WX, boasting an impressive 96 Zen4 cores and 192 threads. This processor reaches a maximum boost clock of 5.1 GHz and features 384 megabytes of L3 cache. The Threadripper Pro CPUs are primarily targeted at businesses and enterprise workstations, offering enhanced security and management features that cater to the needs of large corporations.
Consumer-Class Threadripper CPUs
The consumer-class HDT CPUs are divided into three variants: the 79ADX with 68 cores, the 7970X with 32 cores, and the 7960X with 24 cores. These CPUs are designed for enthusiasts and PC builders who seek powerful computing solutions. The highest-end model, the 79ADX, can achieve a boost clock of 5.1 GHz and boasts 256 megabytes of L3 cache.
Platform and Compatibility
The Ryzen 7000 Threadripper CPUs will be supported by two chipsets: WX90 for the Pro CPUs and TRX50 for the consumer-class HDT CPUs. The intriguing aspect is that TRX50 boards will technically support both Threadripper Pro and non-Pro CPUs. While this flexibility may be beneficial, it's crucial to consider compatibility and the potential loss of features when choosing a motherboard.
Advanced I/O Capabilities
The Ryzen 7000 Threadripper CPUs introduce innovative I/O capabilities, including the ability to split up PCIe lanes for various devices. This opens up opportunities for customizing connectivity, but it also signifies a significant change in the architecture of these processors. The CPUs feature up to 12 CCDs, a complex packaging layout that contributes to the higher core counts.
Cooler Compatibility
AMD is working on a compatibility list for coolers, specifically addressing whether prior coolers and adapter plates will remain functional with the new Threadripper platform. Cooler compatibility is crucial as it impacts the overall cooling performance and thermal management of these powerful CPUs. Enthusiasts should keep an eye on AMD's official guidance to ensure optimal cooling for their Threadripper processors.
Performance Expectations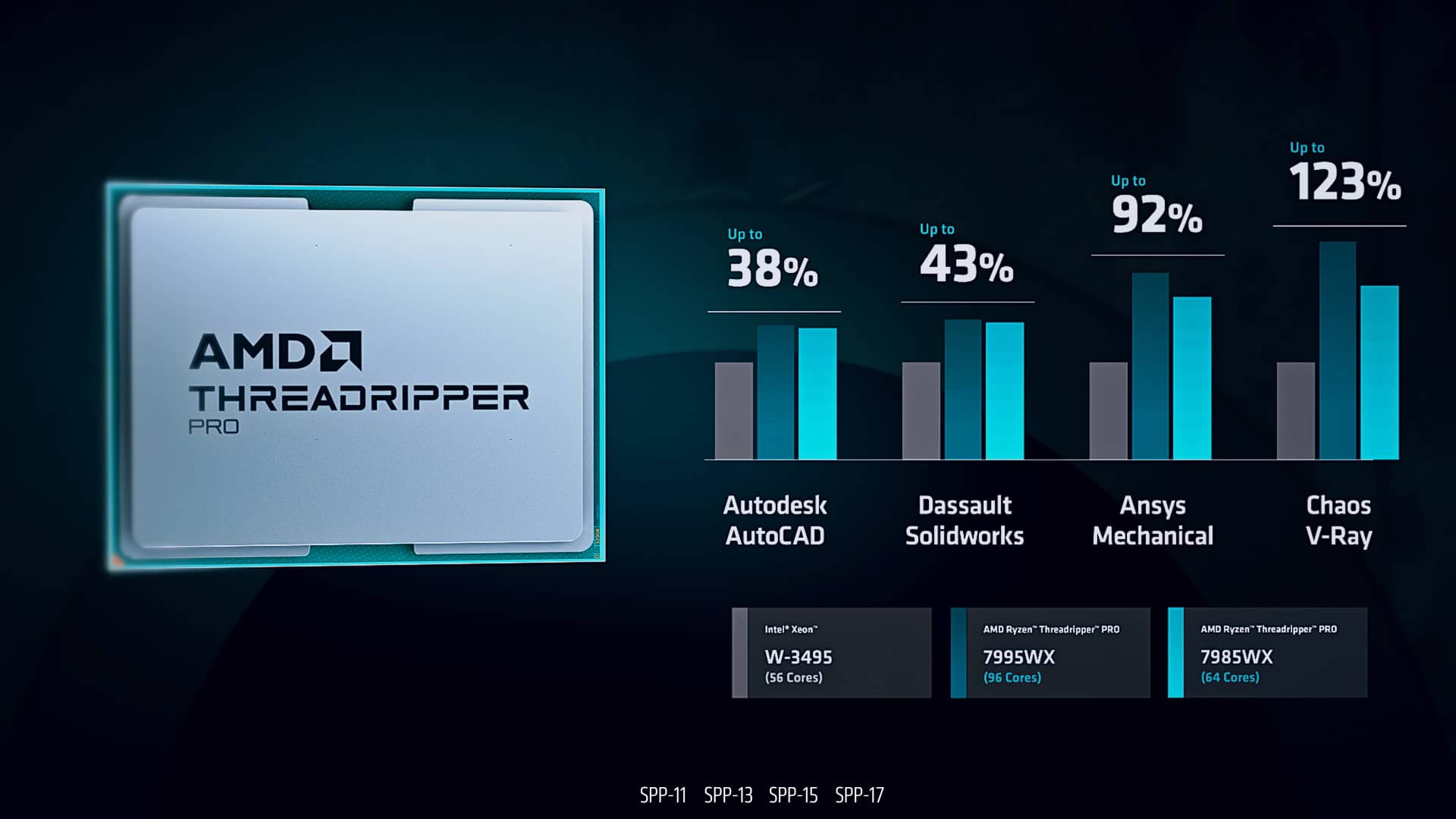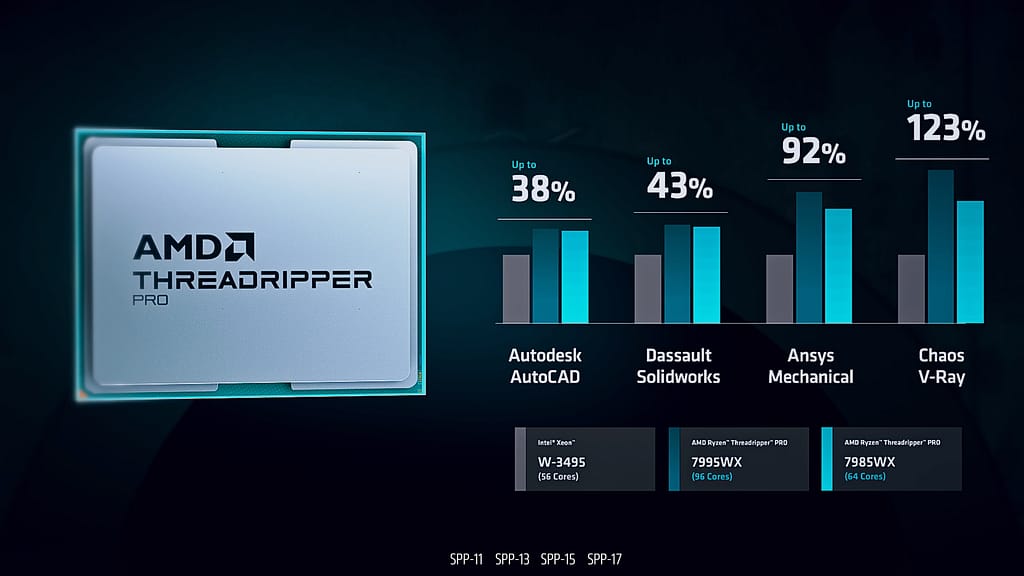 AMD has provided some initial performance claims for the Ryzen 7000 Threadripper CPUs. However, these claims are based on AMD's own benchmarks, and it's advisable to wait for independent reviews to get a complete picture of their performance. These benchmarks compare the new 64-core Threadripper to Intel's 56-core W9 3495X, with performance improvements ranging from 4% to 94%, depending on the application.
The return of the Ryzen 7000 Threadripper CPUs marks an exciting development in AMD's high-end desktop processor lineup. These processors cater to both professional and consumer-class users, offering a broad range of options to meet various computing needs. While pricing may seem high, the increased core counts, overclocking capabilities, and advanced I/O features make these processors a compelling choice for enthusiasts and professionals alike. The simultaneous release on November 21st ensures that these CPUs will be readily available to the general public, without any exclusive periods for large OEMs.
As AMD continues to push the boundaries of CPU technology, it's clear that the Ryzen 7000 Threadripper series is a significant step forward in providing powerful computing solutions to a wide range of users. To fully evaluate their performance and compatibility, it's advisable to wait for independent reviews and official guidance on cooler compatibility. AMD's return to the consumer-class HDT CPU market is sure to generate excitement and anticipation among PC enthusiasts and professionals.